More Than Sponsorship
A lesson on the power of connection
By Jordan Kimbrell

In 2017, John and Judy Weber packed their bags, purchased their tickets and prepared for an Unbound Awareness Trip to Costa Rica — they were going to meet their sponsored elder Eugenia for the first time. Though they had only sponsored her for a few years, they felt a connection, enough to compel them to travel more than 2,000 miles to meet in person. A few months before the trip, however, they received some sad news. Eugenia had passed away. Saddened by the loss, John and Judy decided to continue with their plans to visit Costa Rica with Unbound, hoping to still meet Eugenia's family.
They also decided to continue as sponsors. Since the Webers were already planning to go to Costa Rica, they asked to partner with another elder from that country. And that's where Vilma comes in. When they received a photo and profile of Vilma in their mailbox, they saw she was similar in age to them, and though they didn't have time to get to know each other by letter prior to the trip, they looked forward to meeting their new friend.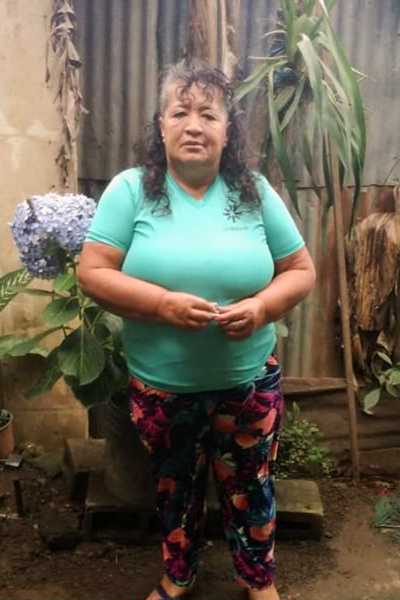 Vilma poses for her Unbound sponsorship photo.
On a bright, beautiful October morning in Costa Rica, John and Judy approached a home made of wood, pallets, plastic and corrugated metal. Though modest, it was larger than the homes around it. Light and laughter filled the home as Vilma and her daughters prepared lunch for their guests.
Accompanied by Unbound staff, John and Judy introduced themselves to Vilma, with tears and hugs all around. With an Unbound staff member translating, they had a lively conversation, with Vilma explaining that she built her house herself, making improvements as she was able. Excited to serve fried fish, Vilma shared that she had already used benefits from her sponsorship to purchase the electric skillet she used to make their meal.
After lunch, John and Judy gathered their belongings to return to the Unbound center and reconvene with the other travelers. But before they left, and though they would see each other the next day at the Unbound center, Vilma had one last thing she wanted to say.
Hugging John and Judy just a few short hours after meeting for the first time, Vilma told them that they were more than just her sponsors. John and Judy Weber, she said, were her brother and sister. They were family.
You see, at the moment of sponsoring, at the moment someone clicks "Sponsor Me" or a pen lifts from the sponsorship form at an in-person event, an incredible tapestry of connections begins to weave across the world.